Blue Charm Web Productions ~ If you're looking for superbly professional and brilliantly designed website services, look no further.

TalkPaul ~ If you're crazy about Paul Giamatti, come join my Yahoo Group.

CD Baby ~ Now featuring MY CDs! RogueMix 2000, Volume One and Volume Two - www.cdbaby.com/roguerob ~! ~Tired of commercial bands, overhyped music? CD Baby was created just for you. Discover new independent bands and music. If you like what you hear, you can purchase online, hassle-free, any of the cds featured. And if you're a musician, learn how to independently create and market your own cd, maybe even have it featured on the site.

IMDB ~ Internet Movie Data Base - This is the most comprehensive movie site online, and I do reviews there - yes, I'm the infamous Rogue-32.

Fantagraphics Books ~ Publishers of the world's greatest cutting edge cartoonists, including one of my heroes, R. Crumb.

Neopets ~ Yeah, yeah, I'm addicted. Don't go there or you will be too. Consider yourself warned.

Rogues Reviews ~ Of COURSE I'm gonna plug my dazzling new site, where you can check out my infamous movie and tv show reviews, become a member (free!) and post your own comments, participate in my stunningly hilarious and brilliant polls, and more. You know you wanna.

Eckhart Tolle ~ The author of The Power of Now and A New Earth, through his teachings, has helped me change my life profoundly by putting me more deeply in touch with my beingness, which is accessed through living completely in the present moment. If you are ready - if you have suffered enough, through experiencing life only on the level of form, through your identification with ego, being subject to the vicious circle of never-ending ups and downs of emotions caused by perceiving life totally through the mind - seek no further.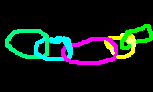 More links to come!